A Handbag of Harmonies
A Handbag of Harmonies is a choir of vivacious women from Chester who create a party wherever they go. With pink feather boas and glitzy handbags, we sing in four-part harmony with dazzling choreography and guarantee to leave audiences with smiles on their faces. More info
Coming events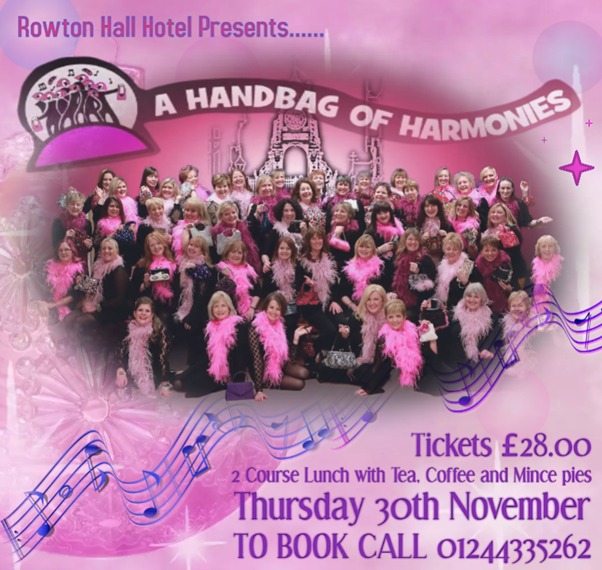 Rowton Hall Hotel Festive Lunch with A Handbag of Harmonies
Thursday 30 November, 12.00pm
We're looking forward to providing some Christmas sparkle and joy to guests enjoying a delicious 2-course Christmas meal at this beautiful Chester hotel. For the menu, more information and to book, go to https://rowtonhallhotel.co.uk/christmas/handbag-of-harmonies

Saturday, 2 December 11.00 am-12.30 pm, Chester Rows
Keep an eye out for us as you do your Christmas shopping – we'll be popping up in various parts of Chester's Rows to entertain you with your Christmas favourites!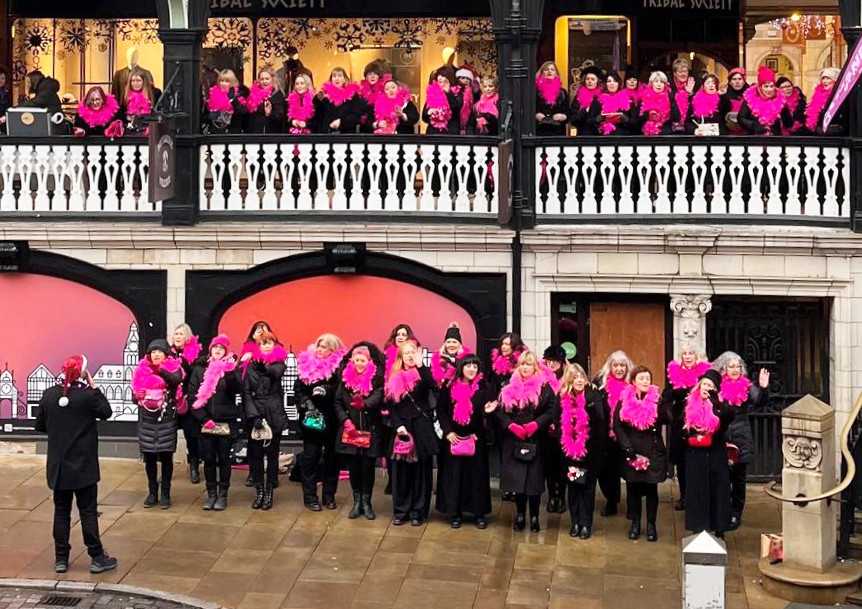 Saturday, 16 December 11.00 am Ellesmere Port flea market, 1-2.30 pm Chester Rows, 3-4 pm Chester Market
We're getting on Santa's sleigh to bring you Christmas cheer, starting at Ellesmere Port flea market (Market Square, Ellesmere Port CH65 0HW), then popping into Chester to sing in the Rows on various streets, and then performing in Chester Market in the afternoon.

Five Choirs Concert, St Thomas' Church, Parkgate Road, Chester
Sunday, 10 December 6.30pm
A Christmas treat featuring Chester University choir, St Thomas' Church choir, Patchwork choir, Proud Marys and A Handbag of Harmonies.

Tickets: £12 (price includes a drink and a mince pie) available by texting 07510 119194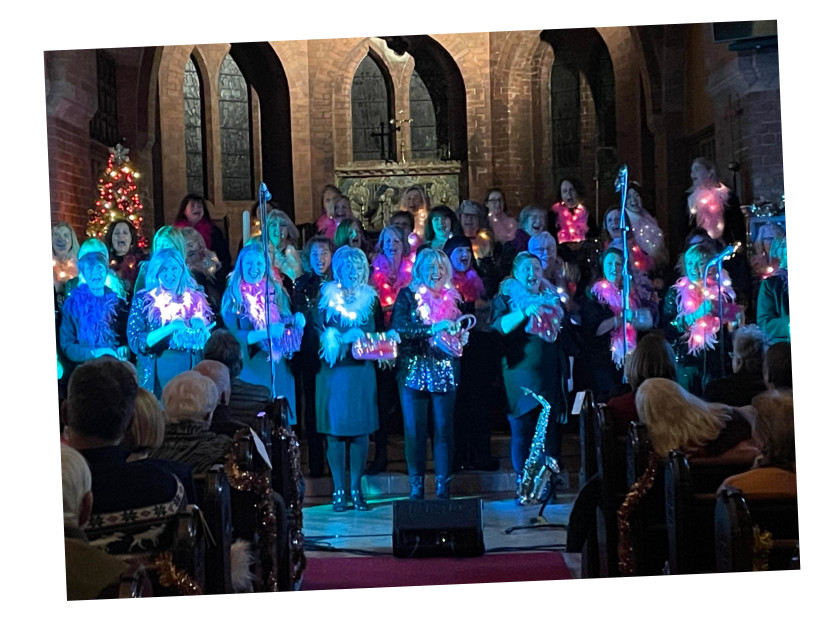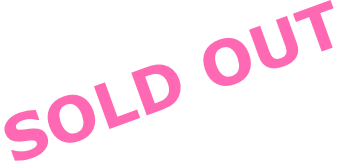 All Saints Church, Saughall, Chester
Wednesday, 13 December (time tbc)
This annual concert in All Saints church is a highlight of Saughall's Christmas season. Come along and hear us sing all your favourites beside the Christmas tree
Previous events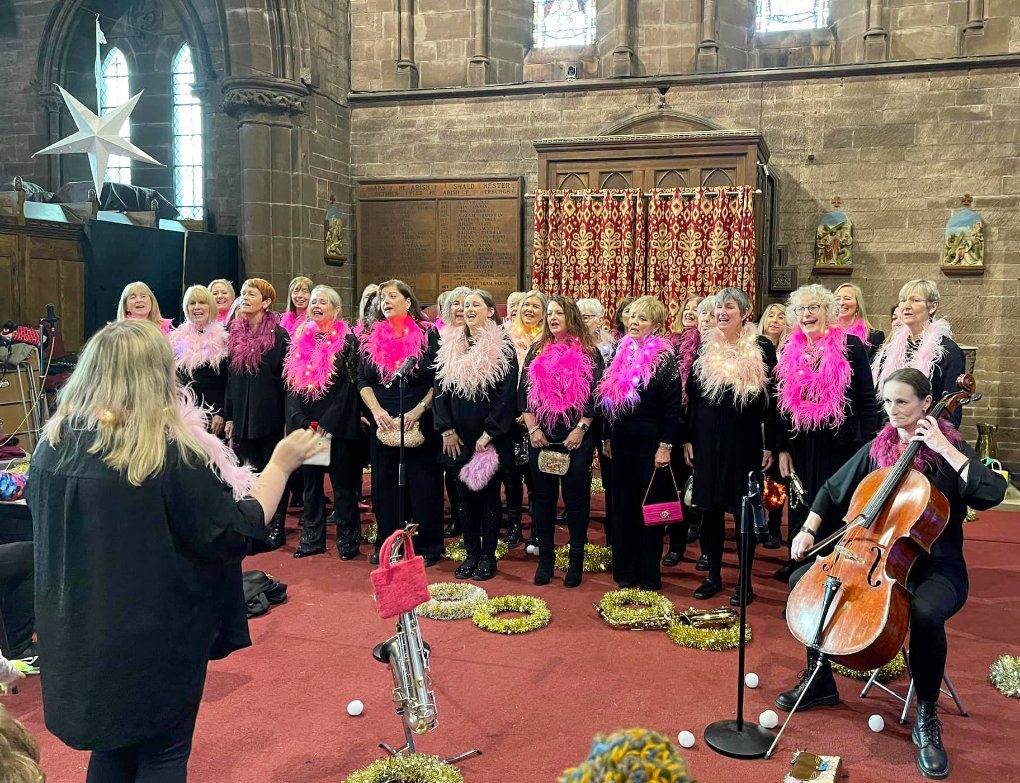 Garden Quarter Christmas Market
Saturday 25 November

We sang some Christmas favourites for the shoppers at this lovely Christmas Market in St. Thomas' church.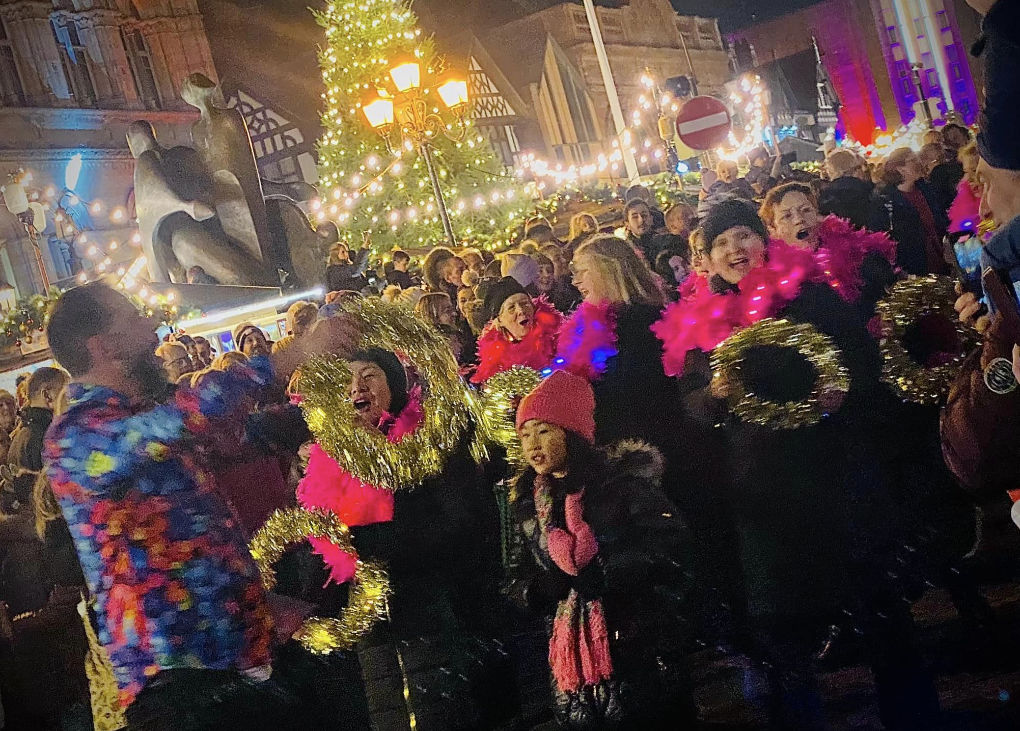 Chester Christmas Lights switch-on
23 November 2023
We had a ball singing and dancing through Chester representing Five Gold Rings in the Twelve Days of Christmas parade as the festive lights were switched on.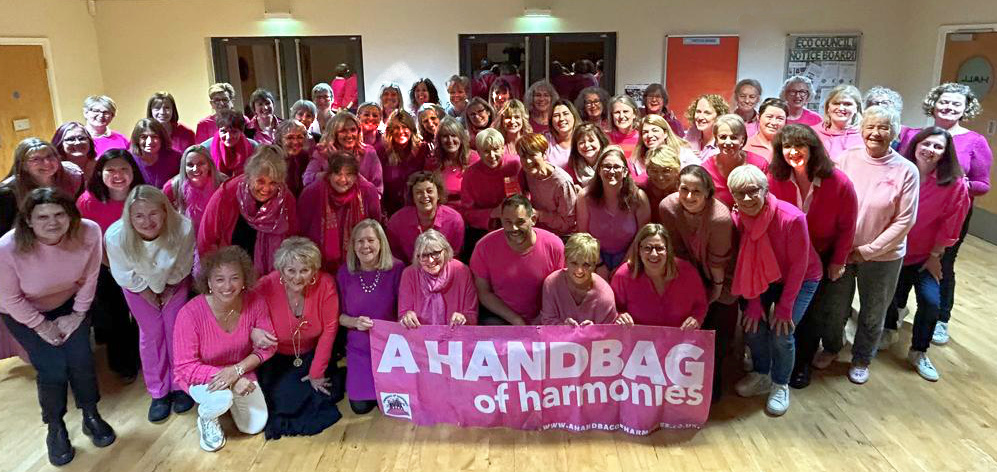 The choir wore pink to rehearsal this week to raise awareness, and funds, for Breast Cancer Now. See their website here
A night with Jean Martyn at Storyhouse, Chester
Saturday, 9 September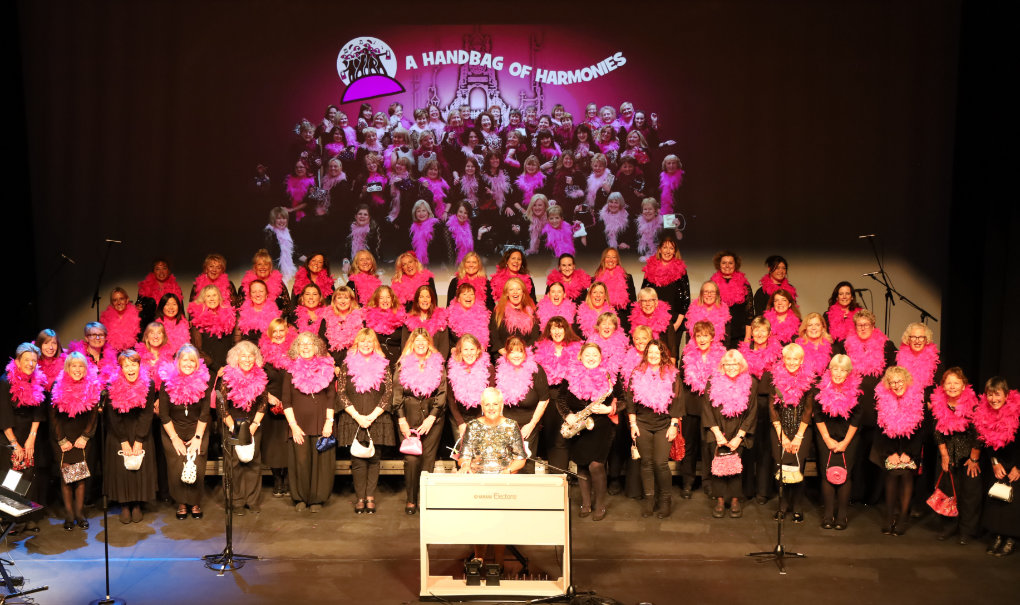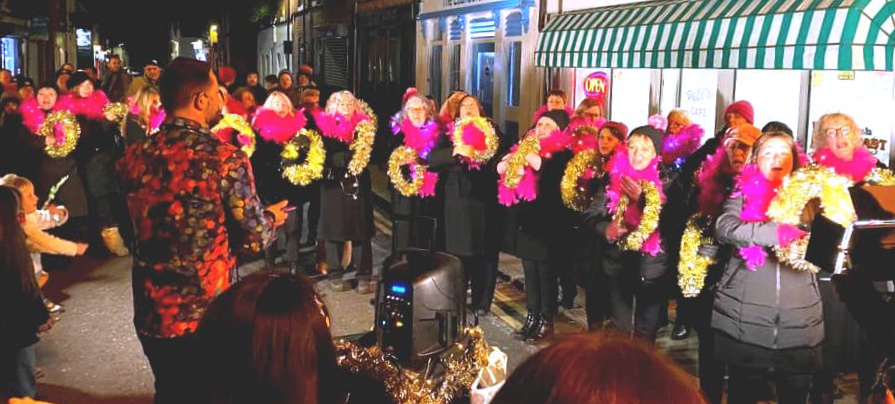 Garden Lane Christmas Lights Switch-on
Friday, 24 November
Another fun, sparkly evening, full of music, this time as the Garden Quarter's lights were switched on.
Elsie Ever After charity – tea party
10 September 2023

We were very honoured to have been asked to provide the entertainment at this celebration of 10 years of the wonderful charity, Elsie Ever After.
Be a Handbag for a Day
October 2023

If this video looks fun to you, go to the Contact page and ask to be on our mailing list to receive details of the next 'Be a Handbag for a Day' in the spring
More pictures HERE
---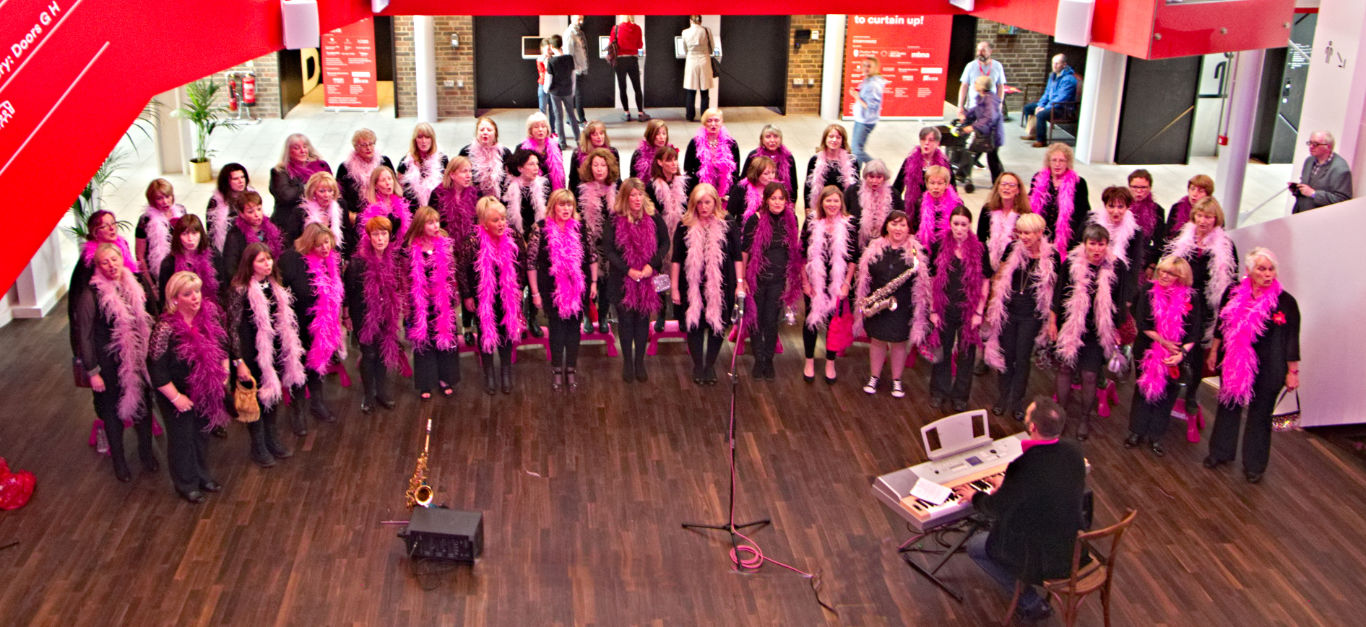 Book us
We can offer performances from 20 minutes to a full evening, indoors or outdoors with as few as 20 and as many as 60 singers. We perform at openings, parties, fund-raisers, concerts, private and corporate events.
Contact us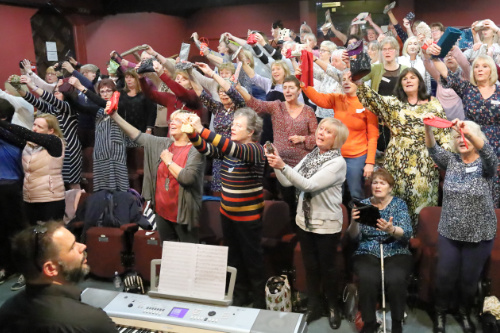 Sing like us
Be a Handbag for a Day and learn to sing in four part harmony as a member of a choir with the help of our director, Matt Baker.
More info
Hearing the Handbags for the first time sent a tingle down my spine as soon as they started singing

Chester resident
I can't remember having so much fun watching a choir before

Russell Watson, tenor, judge, BBC Last Choir Standing
the entertainment was wonderful ... what a fantastic choir!

Suzi Digby, vocal coach, judge, BBC Last Choir Standing
the entertainment was wonderful ... what a fantastic choir!

Chester resident
---